For your latest local and regional news, as provided by the BBC, click
here
. Hungerford and area news can be found
here
.
Back to Contents List
CoVID-19. sHOULD YOU WEAR A MASK?
People should wear cloth face coverings in public places
especially where social distancing measures are "difficult to maintain," such as
shops supermarkets and pharmacies
, the CDC and WHO advises. Masks can be "fashioned from household items or made at home from common materials at low cost." Surgical masks and N-95 respirators should not be used by the public, as these were "critical supplies that must continue to be reserved for healthcare workers and other medical first responders."
Wearing face coverings on public transport is to be compulsory in England from 15 June 2020. There will be exemptions for young children. Those who don't comply may be stopped from travelling and passengers can be fined.
If it is appropriate to wear a mask you should still maintain a separation of 6 feet from others. Don't remove the mask until you're at home or in a place where you can wash your hands after safely removing the mask. When you do remove the mask, avoid touching the front outer part of it in case it is contaminated with Covid -19.
On removal, wash the mask thoroughly, then wash your hands, and disinfect with bleach or alcohol anything you touched after taking off the mask. Never re-use a mask without washing it first. If you can't wash the mask, discard it safely. More complete guidance from the CDC is given
here
.
Design plans for DIY face masks
can be found at
https://www.youtube.com/watch?v=VgHrnS6n4iA
Back to Contents List
COVID-19 information
The latest government guidance is given here.
The
World Health Organisation
(WHO) has published a range of additional information covering all aspects of Covid-19 including
what to do if you or a member of your family becomes infected
. The link is
here
.
The Helpers List

A very big
THANK YOU
to all of our helpers
for the amazing services
they are providing and coordinating. This has made bearable the self-isolation that many are experiencing and has very much brought people in our village together. A really good news story.
If your name is on this 'helpers' list and you can no longer provide help, please let us know by emailing
parishcouncil@inkpenvillage.co.uk
. Also, if you are happy for your name to be added to the list, please email and your name will be added. Thank you.
For those still self-isolating
and in need of help, here is a list of neighbours kindly waiting to help you. Take your pick and give them a call.
Bell Lane

Lucy Hutchinson – 07766 065447
Nikki Pelissier – 07813 334907

Bridle Path and Heads Lane
Clare Macinnes – 07973 878613
Craven Road
Anna Bidwell – 07801 027262
Claire Jones – 07808 773346
Emma Wordsworth – 07785 292078 – 01488 668600
Jane Atkey – 07796 716843
The Firs
Helen Hanna – 07766 915865
Folly Road
Brian and Nikki Cox – 07423 225426
Clare Evans – 01488 668534 or 07786 691292
Karl Prismall – 07879 883148
Katie Rimmer – 07831 680058
Pippa and Russ Jeffries – 07887 574112
Heads Lane
Jane van Ammel - 07740 868536
Nick Day - 01488 684105 or 07786 075502
Sarah Marston - 07976 221847
Post Office Road
Alex Popplewell – 07834 570962
Brian Gerhardt – 07787 500217
Claire Loveridge – 07867 528926
Ed Loveridge – 07879 472929
Maxine and Phil Frazer-Reid – 07920 827888
Phil Day – 07837 537542
Sonya Donohoe – 07970 197843
Pottery Lane
Jane Zollo – 07795 320900
The Sawmills
Sarah Burton – 07949 238458
Trapps Hill
Taj Woodgate – 07971 191263
Upper Green
Dave Lester – 07816 177524
Maridi Baker – 07976 575858
Lawrence Mead, Kintbury
Jelena Golinska – 07930 424547
For those with just a telephone or those needing a different type of help than that provided by the helpers, you can call
Inkpen 75 74 71
. This is just a recording service so please be prepared to give your name, phone number and location, with a brief message and this will be forwarded to the most appropriate person or organisation.
This is for Inkpen residents only
.
This list will be updated as further information becomes available. If you are under 70, in robust health and wish to be added to the list of helpers, please email:
parishcouncil@inkpenvillage.co.uk
. If you volunteer and you start to
feel unwell, you MUST stay at home and look after yourself first
- this will also protect the most vulnerable that we are trying to help. If you are unable to continue as a helper for whatever reason, please contact
parishcouncil@inkpenvillage.co.uk
so that you can be removed from the active helpers list.
Official advice to helpers
is provided
here
. Thank you.
All help, particularly at this time, is very much appreciated
.
Prescriptions and GP surgeries
If you are in a recognised medically vulnerable group
or
you are over 70 and are self-isolating, and you require
help with a prescription
please email Jo Kempster at
jkempster966@btinternet.com
or, if you can't email, contact either Jane Zollo (07795 320900) or Sarah Marston (07976 221847).
There is a
prescription collection rota
system in place for collection from either
Boots (Hungerford)
or
Woolton Hill Surgery
. All you need to do is provide your name, address, post code and a brief description of where your house is within Inkpen. Your prescription will be delivered by one of the Inkpen Helpers. (If the prescription is for Woolton Hill surgery you also need to include your date of birth). Scheduled visits to Boots in Hungerford are on a Monday, Wednesday and Friday. Prescription collections from Woolton Hill/Kintbury Surgery, via Dr Kate, are on Wednesdays and Fridays. Do let us know if you are personally self isolating and are in the elderly and vulnerable category, or if you know someone who is in these categories that needs our help. We are aiming to keep footfall to a minimum in both Boots and Woolton Hill surgeries.

Boots pharmacy, Hungerford
- Hours have been returned to 9 to 1 and 2 till 5:30. Saturday 9 to 1 and 2 till 5. Closed Sundays.

GP surgeries
. The Woolton Hill GP Practice is operating on a triage protocol, with Hungerford offering telephone consultations. Kintbury surgery is closed. More information regarding access to GP and broader medical advice is displayed on the respective surgery website.
Covid-19 Symptoms ?
All people with flu-like symptoms
- a fever above 37.8C or a persistent cough - should
self-isolate (stay at home, away from other people) for seven days and call 111.
Don't spread it around !
Mental Health Support for those of 11-18 years
West Berkshire Council has set up a dedicated telephone helpline for young people experiencing issues and concerns relating to the pandemic - 01635 503587.
The helpline, which is linked to its Emotional Health Academy (EHA), will offer the district's young people self-help support, advice and guidance from trained EHA workers. It came into operation on 6 April, and will be open between 09:00 and 17:00 Monday to Friday, providing an opportunity for children and young people (aged 11 to 18) to express their concerns and talk about issues directly affecting them during the current Coronavirus crisis. EHA workers will use active listening skills to support young people in dealing with difficult feelings around Covid-19 and provide signposting and self-help support for their general wellbeing.
This local helpline is a short-term service and will be available only during the pandemic, to provide 'in the moment' support to children and young people. It will provide access to trained EHA workers who can offer advice and self-help tools and provide support to manage 'low level' problems. It is not a crisis line and does not replace other services such as the Child and Adolescent Mental Health Service (CAMHS).
Back to Contents List

West Berkshire Council
have set up a
support link
reflecting the information given on this page. They have published a
letter
to communities on changes to
help for communities, individuals and businesses
. The
Community Support Hub
update is
here
and will now be updated fortnightly. If you are a resident
seeking additional support
, click
here
. And if you want WBC updates sent directly to you, click
here
. The Public Protection Partnership -
PPP
- briefing is available
here
. The West Berkshire News Update is
here
.
Cold weather
messages and support available can be found
here
and home energy advice is
here
.
RiM,
Recovery in Mind is a community organisation, where adults living in West Berkshire get the opportunity to learn life long skills and tools to improve and manage their mental health and wellbeing. Details can be found
here
.
Draft proposals
of measures to help the public safely make walking or cycling trips part of their daily travel choices, can be found
here
.
West Berkshire Council
together with Greenham Trust have set up a new
"Surviving to Thriving"
fund to help charities and volunteer organisations carry out small, meaningful projects that can help to mitigate the impacts that COVID-19 has had on mental health and wellbeing in the district.
For this partnership fund, West Berkshire Council and Greenham Trust have each pledged £100,000 to make £200,000 available for local organisations to carry out projects. While the deadline for applications is 30 September 2021, organisations are encouraged to apply as soon as possible. For more information on the fund, and to begin the application process, applicants are invited to visit:
https://info.westberks.gov.uk/survivingtothriving
West Berkshire Council
are asking residents across the district/borough to
think of others and not light bonfires
during the ongoing Covid-19 pandemic lockdown because many people at home are vulnerable and may have respiratory issues, or even be fighting the Covid-19 itself. During this difficult time we are asking that their needs are put first. Bonfires can also get out of control or cause accidents, creating extra pressure on the already busy emergency services. Anyone having a domestic bonfire that causes a nuisance may be
prosecuted under the Environmental Protection Act 1990
. To
report an incident of a bonfire
please use our on-line reporting form
here
.

Fly tipping
is the illegal dumping of any waste or rubbish on public land or sites which are unauthorised to accept waste. If the rubbish is dumped on private land, the landowner is responsible for removing it. If you find or receive notification of fly tipped material on private land you will need to inform the landowner. Landowners unfortunately will have to pay for the cost of disposal of fly-tipped materials. To
report an incident of fly tipping
please see links on PPP website
here
.
Back to Contents List

Pets and covid-19
The British Veterinary Association stresses "owners should not worry" about the risk of infection from pets. But, veterinary scientists have recommended cat owners keep their pets indoors to help prevent the
spread of the coronavirus among animals
.
An animal's fur could carry the virus for a time if a pet were to have come into contact with someone who was sick with Covid-19. Practise good hand hygiene, try and keep cats indoors.
Back to Contents List

Keeping your Car ready for use
Keeping your battery healthy, your tyres inflated and giving your car a thorough clean could make all the difference when isolation measures are finally lifted.
The best way to make sure your car makes it through long-term storage or significantly reduced usage, is to keep its battery healthy. Using a battery conditioner, or trickle charger, is the most effective way to do this. It will keep immobilisers and other energy-sapping components of your car from draining your battery completely.
You'll also need to inflate your tyres to the maximum recommended pressure found on the tyre sidewall, as they will lose pressure over time even if they're not being used in motion. If left for a long period of time this can lead to flat spots and your tyres losing their round shape, especially on older tyres.
Back to Contents List

Things to do
Something for Youngsters
Brain Pop
offers resources on maths, English, science and more, and
starting on 20 April
, videos, quizzes, podcasts and articles will appear on
BBC Bitesize Daily
via the BBC iPlayer, red button, BBC Four and BBC Sounds. If your children are into Minecraft try
Tynker
. And, for craft resources, from knitting to jewellery-making, drawing and origami, try
Creativebug
.
BBC Bitesize
also has tons of content for ages 3 to 16+, and for Youtubers there's
Freeschool
with plenty of fun videos to watch - something that even the older audience might like.
If you are an Amazon customer then there is free childrens content
here
.
FREE Audio books for All Ages
If you have children at home from school why not try free Audible
audiobooks for children
. No sign-up required.
The BBC's Sound website and app offers a really extensive range of audio books. Something for everyone from
here
.
Opera and Theatre
There's a wide range of quality musicals, theatre plays, some opera and even a bit of ballet
here
, all for free. For older listeners there's something too, not to everyone's taste but available none the less,
Nightly Met Opera streams in HD
. Our
National Theatre
is also providing content for free whilst the theatre is closed - click
here
.
You might also like to have a look at
archive.org
. This provides audio, music, TV, images, films, even old time radio. I can't vouch for this content but worth a look.
Crafts
And don't forget
Stitch and Knit
. If you are self-isolating, Jan Honey will email you patterns and instructions on how to make a range of things: small knitted Christmas decorations, beginners crochet, and how to make small hand sewn items. Give her a call on Inkpen 668222 or email
jan@honeydesign.co.uk
.
Puzzles and Games
If crossword puzzles are your thing, then there are masses on-line - printable and otherwise, they'll even provide the answers. For sudoku try
sudoku.com
. Windows 10 users will find a range of
free games in the Microsoft Store
(an icon in the task bar), including mahjong and solitaire. There's even a jigsaw game. Paid for games are also freely available.
Quizzes
Whilst you can't visit the pub, you can still have a go at a
Pub Quiz
. Get out the crisps and pour the lager, then go to
https://readymadepubquiz.com/
. There are bound to be other and better pub quiz sites - let me know when you find them.
Cooking
If all that fails try a bit of gardening, or have a go at nettle soup. We all have to eat so ring the changes, look for
recipes on-line
such as those on the
BBC
or those on your favourite supermarket site such as
Waitrose
. I like the 'spaghetti with greens, capers, anchovies & lemon dressing' - can you make it without spaghetti ?
Exercises
Many of you might be missing
Yoga
so try
here
for a few free exercises. If you've tried
Pilates
before have a look
here
, but if you are a beginner try the
NHS Pilates for Beginners
site. The NHS also provides a range of
general fitness exercises
- why not give it a go, but don't overdo it.
Holidays from your armchair
.
Go to google maps, pick a destination an then go to street view. That's all you need for your own virtual holiday, except maybe for an espresso or a glass of wine. You can take a tour of the
Louvre
, visit the
Taj Mahal
or even
Machu Picchu.
To get away from it all, why not join the International Space Station and see what they are seeing now,
live
.
Night time Activity
At present, the night sky is quite clear. Weather permitting you might like to get out and do a bit of stargazing. A starters guide can be found
here
.
If you've any suggestions as to other stay-at-home activities, email them to
parishcouncil@inkpenvillage.co.uk
.
Back to Contents List
Food VENUES and HOME DELIVERIES
The Inkpen Monthly Market
A number of people have asked me when the market will re-start given that, as of mid-June, indoor markets were permitted to re-open. During lockdown I have given the market much thought.
I believe that for the market to re-open safely, the virus needs to further recede. The Village Hall is a small building and, in my opinion, it would be difficult for visitors to both keep socially distant and at the same time being able to comfortably browse the stalls.
Many of the people who come to the market, be they shoppers or stallholders, are elderly, or at least in the over 70s bracket. In my opinion, on both sides, there will be some reluctance to come along for quite some time.
I have run the market since 2011 and have been involved with it for longer than that. I have decided that now is the right time for me to pass on the baton to the younger members of Inkpen should there be any village interest in the market recommencing at some point in the coming months.
If anyone, or a small group, thinks they might be interested and wants any information, please contact me, Josephine, on Inkpen 668 068.
Didcot Bakery - Kintbury
There's a slightly different format at the Kintbury baker's shop now, and for the moment, a slimmed down list of what's available. Still plenty of choice though. You have to pay by contactless card, no cash. Ordering online is probably easiest. Their website is
www.farmhousebakerycafe.co.uk
. Everything is now wrapped as you would expect with hand sanitizer at the door and only one person allowed in the shop at a time.
The bakery is open on Wednesdays and Saturdays, 9am till 1pm. In addition to bread, give their Chelsea buns, quiches and pies a try.
Fisher of Newbury
If you are
NOT in an at-risk group
and want to get some
fresh fruit and veg
that you can collect yourself, you might like to try
Fisher of Newbury
. They do fruit and veg boxes which you can select on-line and collect if you get a delivery slot. They have quite a range of items and are based at Hambridge Road in Newbury.
Got a self-isolating neighbour ? See if you can get a veg and fruit box for them at the same time.
Take-away service with a difference

The John O Gaunt Pub is offering a take-away service with a difference. You order and pay over the phone. The food is delivered to the customer - FOC - and the customer receives a call to say "it's on your doorstep". The service is free, the food is not!
The menu link is:
https://www.facebook.com/John-OGaunt-Freehouse-Hungerford-152058648286949/?epa=SEARCH_BOX
. and the contact number is 01488 683535
Hungerford traditional butcher.
The traditional butcher in Hungerford is taking orders over the phone for delivery to Hungerford and the surrounding villages - that means
Inkpen
. If you are interested, details of the items for sale and the contact number are to be found
here
.
Cobbs Farm Shop
At their
Hungerford farm shop
, you will find fresh fruit and veg, a delicatessen, butchery, fishmonger and florist. They work closely with a large number of local producers to offer customers a whole host of products including luxury dairy ice cream, freshly baked bread, honey, preserves and chutneys, cheese, dairy, flour, eggs, cereals, tea, smoked fish and meats, juices and biscuits. And let's not forget their home-grown award-winning English Sparkling Wine - Alder Ridge.
If you are in a vulnerable group or over 70 and you want to place an order with Cobbs, and have it delivered to your door, please contact Claire Jones for details - 07808 773346.
Back to Contents List
Police report

A message from the
Deputy Police and Crime Commissioner
is available
here
.
Online Fraud.
New scams are coming to light all the time and particularly in the build-up to Christmas. Police guidance is given
here
.
Local Police News
.
As I write we are still in a National Lockdown, but the Prime Minister is due to make an announcement in the next few days which will undoubtedly bring about some changes and potential easing of restrictions. It is important that you keep up to date with the current restrictions on the Government's website. During Lockdown we have seen our beauty spots in the local area such as Combe and Hungerford Common busier than usual. You might be thinking these places are miles away but we know that opportunist criminals like to travel so please be vigilant when parked or walking in these areas.
Consider the following:
• Don't leave anything in your car. Remove everything of value, including items placed in the boot.
• Security mark items such as your sat nav with property coding devices or ultraviolet markers and register it with www.immobilise.com . This will help to reunite you with it if is stolen.
• Open the parcel shelf and leave the glove box open to show would be thieves there is nothing of value left in the vehicle.
Have you heard about THAMES VALLEY TEXT ALERT? Sign up today www.thamesvalleyalert.co.uk/ to receive free texts or emails about crime in your local area and relevant safety advice.
You can now follow us on twitter @TVP_westberks. We are also on Facebook TVP West Berkshire. If you would like any further advice, or have any information relating to any of the above please contact me on 07814852137 or email Joanna.king@thamesvalley.pnn.police.uk.
SCAMS
Be aware of scams.
Download "
The Little Book of Big Scams
". For home security, download "
Secure your home
".
Message shared on behalf of Thames Valley Police
- We have been informed by Thames Water that a number of "Contractor" Identification Cards have been lost in transit. The cards have been deactivated so they cannot be used to gain access to any Thames Water sites but there are concerns that they could be used for criminal activity known as "Distraction Burglaries." Please be very cautious and verify with Thames Water any Thames Water person's details before letting anyone into their property?
Message sent on behalf of South East Coast Ambulance Service NHS Foundation Trust
(SECAMB)
We are aware of a voice message being shared currently on social media regarding the ambulance response to coronavirus. The alarmist information being shared in the message is not correct. We would urge people to disregard the message and not share it further. In line with our ongoing plans during this challenging time, we are continuing to follow national guidelines regarding the ambulance response and thank the public for their ongoing support in following the government's advice.
NHS test and trace system
The Government announced the launch of the NHS test and trace system in England and Scotland on 27 May. Earlier in the month Trading Standards warned about a phishing scam around use of the trial contact tracing app being piloted in the Isle of Wight. It has not been rolled out across the rest of the country but that hasn't stopped the scammers trying to take advantage. The public should look out for
texts
with links in them. The link goes to a bogus website which asks for personal details. Scammers may use the information to gain access to bank accounts and commit other forms of identity fraud.
Also, you might receive a call, text or email offering the COVID-19 vaccine. If you're asked to provide payment or bank details, please don't respond – it's a scam.
The real NHS will not ask you to:
1)
provide bank details or payments,
2)
give details of any other accounts, such as social media,
3)
set up a password or PIN number over the phone, or 4) call a premium rate number, such as those starting 09 or 087
People who shop at Tesco
have been warned not to fall for a scam email claiming to give them free shopping and vouchers. In emails addressed to customers of the supermarket, scammers have attempted to take advantage of the coronavirus crisis by offering them the chance to shop for free online or in store and to click on a link to register their details.
Similar scams too purporting to be from
Morrison
offering free vouchers and other scams such as free Dettol or Gillette samples or competitions. They are all trying to get you to like or share which gives them details on your contacts etc. Never click on any links from uninvited emails. If in doubt on any scams, please contact your Bank or other organisations to check whether they have been sent by them.
Other recent scams are a
text from O2
saying that a
payment had failed
and to avoid fees, visit the website using the link in the text and to then sign on using another screen asking for all the security details that the person used followed by credit card and bank account details. The fake website looked exactly like the O2 official site so some people could easily fall for this scam.
Royal Mail scams
via email advising that your parcel has arrived but the Courier was unable to deliver the parcel to you. The email then asks you to pay £3.95 for this to be re-delivered and to click on a link to give your bank and other details.
Also Emails saying that the
recent payment for your vehicle tax failed
because there is not enough money on your debit card and that your vehicle is no longer taxed. They suggest you use a credit card instead to avoid any other consequences and again this is a way of trying to obtain your Bank details.
There are various ways of reporting scams.
A new initiative called Cyberawaregov has launched SERS – the suspicious email reporting service. They say that if you have received an email which you are not sure about, to forward it to
report@phishing.gov.uk
There is further information on the website:
www.ncsc.gov.uk/information/report-suspicious-emails
Scams can also be notified to Action Fraud
on 03001232040 or via their website or to the
National Trading Standards Scams Team
on 03454 040506.
Back to Contents List

Out of hours Building works
The law - and frequently planning permission as well - regulates the hours during which construction can be carried out, typically between 8am and 6pm weekdays, 8am and 3pm on Saturdays, and not at all on Sundays. Outside those hours you have the right to complain to the council, who will come and investigate and may take action against persistent offenders. Contact WBC at ehadvice@westberks.gov.uk (Tel. 01635 519192) or planningenforcement@westberks.gov.uk (Tel. 01635 519111).

Back to Contents List

Library - Pass It on
The mobile library will call at Craven Rd at 2.30pm until 2.50pm and at the Inkpen Primary School at 3.05 to 4pm on Tuesday 23rd March 2021 - Covid-19 arrangements will apply.

The Libraries Service are also offering a new online service to residents so that they can continue to enjoy new books and to share their love of reading without leaving the house. They have set up a new Facebook group called West Berks Reads, which is a useful, alternative way for people to share their thoughts and pick up ideas for what to read next.

Meanwhile, the digital resources and e-library services are continuing 24/7 and understandably being very well used at this time. Why not go to the Libraries page on our website and discover a new book or magazine?

Back to Contents List

Climate change
Official reports suggest that our climate decline is rapidly accelerating. Although we are a small community and many feel that we are too insignificant in the grand scheme, there are things that we can do to make a positive impact.

Obviously we can plant more trees and hedging and the IMPFT is this month planting more than 300 hedging plants along Post Office Road. But individually we can make a difference by leaving some of our gardens to become wild spaces. We can be more careful in our use of pesticides and herbicides and hopefully use insect friendly alternatives. Remember, Your Climate Needs You.

Following on from the work of Bob May and Bernard Harris, to encourage wild flowers on the Lower Green Triangle, we are hoping to transform other areas of public land in Inkpen in the coming years, with an emphasis on natural flora and their insect inhabitants. Why not set aside a small patch in your garden for beautiful, natural, wild flowers. Have a look at this to get a bit of encouragement.

These links might also be of some interest. Trees and Insects. Remember, insects are at the bottom of the food chain - if we lose them we lose all that depends on them!

Back to Contents List

school news
Every morning, it is getting just that little bit lighter, the birds are singing just that little bit more, the early spring flowers are just that little bit taller and the sun is just that little warmer; these signs of spring help to cheer us all up in school. The news that we will be opening up again on March 8th is very welcome too and we are looking forward to inviting all our children back into school. Hopefully by then, the weather will be good enough for us to make full use of our outside areas, as well as venture further afield around the village to the rec for PE and maybe even the Crocus Field again. We visited the Crocuses just before the schools were closed last year and so it would be lovely to celebrate the end of the "final" lockdown with another visit.

With World Book day falling just before our return, we intend to delay this slightly and celebrate books and reading within our bubbles towards the end of term. We are using the money so kindly donated by people in the village to add to the reading collection in Years 3&4 at the same time. Thank you to all those who contributed, we are very grateful. .

INKSPOTS EARLY YEARS PRE-SCHOOL
The Inkspots have had another month packed full of fun and inspiring activities. When the weather was cold, the children played with ice balloons, explored frost patterns and discovered all about snowflake shapes. They also tasted some frozen and room-temperature foods to see if they could spot the differences. The children learned about the Arctic and Antarctic, where they are on our planet and what animals live there. To warm themselves up after all that snow and ice, the children made some yummy vegetable soup to take home to share with their families.

At Forest School, the children have been preparing for the arrival of spring by making twig-in-bottle bug homes, going on a "match that colour" hunt around the garden and planting some beautiful spring bulbs. The children experienced some of the traditions of the Chinese New Year. They found out all about the twelve Chinese Zodiac animals and their story, as well as learning a dancing dragon action song and making a large Chinese Dragon to dance with. They tasted some delicious Chinese snacks and made lanterns, lucky goldfish decorations and lucky envelopes.

"Top of the Spots" quotes of the month…
- "Penguins don't live in the Arctic 'acos' the polar bears will eat them."
- "It makes a cracky-cracky noise, that's what the ice says."
- "Dragons don't dance… Do they?!"

One of the unique aspects of Inkspots is that the pre-school's small numbers enable the play leaders to get to know each child as an individual. There can be no doubt that the children thrive on the warm and friendly atmosphere and the excellent care and attention they receive. The Inkspots play and learn together in a safe and stimulating environment, building invaluable school-ready skills for when they make the transition to "big school". Now that the pre-school's short-term security has been well and truly secured, it is time to think ahead to September, when we will have to wave goodbye to some of our little graduates.

We are now inviting registrations for any children who will soon be turning three and wish to secure their pre-school place for 2021/22.

Contact Mrs Edwards by phone (01488668219) or email (inkspots@inkpen.w-berks.sch.uk) for more information and to request a registration form. .

Back to Contents List

playing field trust (impft) news
Pavilion News:
The pavilion is yours to use and we hope you will make the most of the renovated pavilion. According to the HMRC Government Roadmap out of Covid it looks like you may be able to use it from 12th April. You can make bookings via gloriakeene@hotmail.com . The pavilion is available now for desk space with Wi-Fi if you need some quiet space away from home.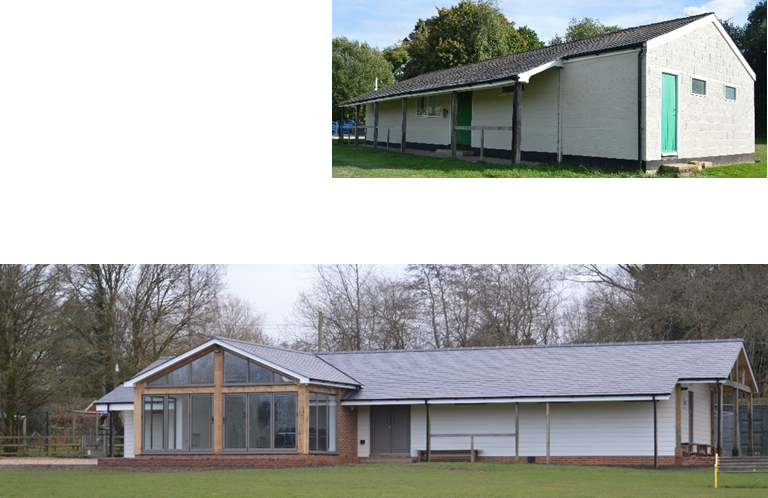 Only £10,000 more … we just need £10,000 to complete the renovation and build the equipment building so if you can spare any £'s or pennies towards this it would be much appreciated. You can donate on-line - just email claire@clairejjones.com for the bank details or you can write a cheque. We really hope that we can complete the renovation by the summer. .
Woodland Playground:
The woodland playground equipment will now be installed at the end of March to allow us to prepare the ground. If you have any landscaping and planting experience or if you can put up fencing and are happy to volunteer some time to help please do get in touch with Claire Jones (claire@clairejjones.com) IMPFT website: www.impft.co.uk .
Back to Contents List
INKPEN History Group
The Inkpen History Group is back from the dead and needs help.

There is a significant volume of handwritten and other data that requires to be carefully scanned, or photographing so that it can be turned into pdf documents ready for inclusion in the Inkpen history website – history.inkpenvillage.co.uk

We are also keen to receive copies of old photos, documents etc. that you may have and would be happy to share. Old maps, items of Inkpen pottery and any items relating to the old sawmills. Whatever you judge might be of interest, please drop us an email at - historygroup@inkpenvillage.co.uk.

Our aim is to bring together as much historic content as we can to avoid it getting lost for ever. Your help is important. Thank you.

The Covid-19 Scrapbook – 2020

To mark important times in the past, Inkpen resident groups have produced scrapbooks. These give a glimpse of the time in writings, pictures, bills and other impacting media.

This year, 2020, the history group want to do the same, to mark something that we have all been caught up in, namely, the covid-19 pandemic. No matter what your experience of the pandemic, or your age, we would like to hear from you, to share your pictures, your photos, formal and informal messages, and your anecdotes. We would prefer where possible to have handwritten textural content as this is more personal and reflects a personal experience.

Please support us in this. You can contact us in the first instance by email at historygroup@inkpenvillage.co.uk or leave a brief phone message at 01488 757 471. Make history. Join in. Thank you.
Back to Contents List

Other inkpen news
Inkpen Crocus Field

During March a visit to Inkpen's unique Crocus Fields is well worth while. The meadow, which is just off Pottery Lane, is awash with more than 400,000 purple and white crocuses and is Britain's largest display of wild spring crocuses. Legend has it that bulbs were brought back from Central Europe during the Crusades in the 12th century. For obvious reasons, dogs are not permitted in this area."
West Berkshire Food Bank
Thank you so much for all your kind donations to the Inkpen phone boxes. They are all greatly received and hugely appreciated.
URGENTLY NEEDED ITEMS…
LOW ON STOCK…
WE'VE GOT PLENTY OF…
Tomato Ketchup
Shampoo
Please no more pasta
Kitchen Roll
Non-Bio Washing powder (will be shared)


Beef Oxo Cubes
Washing up liquid


Long Life Juice
Deodorant


Long Life Milk
Pasta Sauce
Cooking sauce Floor
General purpose cleaner


Please do keep donating - Claudia and I are delivering donations to them every couple of weeks.
Foxglove Care Farm Project
Foxglove Care Farm Launch
Foxglove is a traditional working farm owned by Simon Bastable. It is situated adjacent to Inkpen Common nature reserve. The Care farming project is a supportive Social Enterprise, set up by Simon and his partner Kathe, who both have over 40 years' experience of farming life.
Foxglove is a mixed farm of Devon x angus cattle, Clun forest x mule sheep, pigs and free-range chickens. There are also arable crops of barley, wheat, sugar beet and turnips, which are used as winter feed.
Simon and Kathe were foster carers for West Berks Local Authority up until 2013, when Kathe returned to her nursing career, which has involved working with vulnerable and disadvantaged young people and adults. It was this work that prompted Kathe, with the help and support of Simon, to be in a position to launch this Care Farming Project.
What is a Care Farm?
A Care farm is all about combining the care of the land and animals with the support and care of people within the local Community. Care farms are usually working farms that welcome people from a wide range of backgrounds to come and participate in farming related activities, in whatever way they can.
The very act of participating, being included, being with nature and having a meaningful task to accomplish can be incredibly fulfilling and life enhancing. These nature-based activities can result in improvements to physical and mental health, increased self-confidence and self-worth, reduced social isolation and for many the care farming experience changes lives.
Simon and Kathe will offer a range of supervised farming and rural related activities, both inside and outside, including: care of livestock, preparing animals for showing at local shows, growing fruit, vegetables and plants in the polytunnel and outside in the garden, nature walks, baking, cooking home grown produce, building a camp fire, picking apples and apple juicing, a range of crafts, building bird boxes, repairing and painting, plus many more seasonal activities. The focus will be on learning opportunities, meeting people and making friends, physical and mental wellbeing, recovery and having fun.
As a Social enterprise, the care farm will grow seasonal produce, plants and make crafts to sell through the farm pop-up shop to the people in the local community. Any profits will be ploughed back into the care farming project.
How you can get involved
Volunteering - We are seeking volunteers from a wide range of backgrounds and skills who would enjoy playing a key role in helping us to successfully launch Foxglove Care Farm for the local community.
Referrals - If you know of anyone who you think could benefit from these care farming related activities, or would like to book a taster session, we would very much like to hear from you. Referrals are usually made through a GP, Social Prescribing link worker, Community navigator Scheme, Mental health teams, Social Care agencies, Social Services (looked after children / family respite breaks / early stages dementia/Parkinson's / depression / isolation / Loneliness/ learning difficulties, YOT rehabilitation programmes/young people at risk) housing, counselling, women / men's groups, trusts, organisations working with refugees, asylum seekers, homelessness, supported living, unemployment centres, schools, charities plus many more organisations. You can also Self refer and Self fund.
The Care farm plans to run a 12-week programme starting from April 2021.
10:00 - 3pm Monday to Friday
Hourly sessions are also available. (Social distancing in place - Government Guideline's followed)
Contacts - If you would like to enquire about volunteering or want to bring an individual or group to have an experience at the farm, please contact Kathe on 07738 464794
Opening Hours: 10am – 3pm, Monday – Friday
Booking is Essential. Foxglove Farm is adjacent to Inkpen Common, opposite the Crown and Garter Car Park, RG17 9QR Website : www.foxglovecarefarm.co.uk, Email: foxglovefarminkpen@gmail.com .
Back to Contents List


Useful links
Many thanks to Tim and Ali des Forges, editors of the Inkpen and Combe bulletin, for providing bulletin copy for this website. You can contact Tim and Ali by phone or email thus - aliedesforges@yahoo.co.uk or ring them on 01488 668496. You can also download a copy of the Inkpen and Combe bulletin here

To report potholes, go to www.westberks.gov.uk/pothole. For other road or pavement issues including overgrown verges, go to www.westberks.gov.uk.

To join Laine's heating oil delivery club, email Lanie.

To report a water leak, go to www.thameswater.co.uk and for loss of electricity, go to www.ssen.co.uk. Both Thames Water and SSE provide priority services for those needing help to cope should there be a loss of service. This includes the elderly and those with special health needs. Thames Water priority service can be accessed on-line, here and for SSEN, the details are provided here.

Back to Contents List