For your latest local and regional news, as provided by the BBC, click
here
. Hungerford and area news can be found
here
.
Back to Contents List
CoVID-19. sHOULD YOU WEAR A MASK?
Wearing a mask is for the protection of those around you. Others that wear a mask in your presence protect you. Please use your judgement when in the presence of others and help keep us all safe from Covid-19.
In England, face coverings are no longer required by law. However, the government suggests that you continue to wear a face covering in crowded and enclosed spaces where you may come into contact with other people you do not normally meet.
If you are exempt from wearing a mask due to a medical condition, please carry on as you have been.
Design plans for DIY face masks
can be found at
https://www.youtube.com/watch?v=VgHrnS6n4iA
Back to Contents List
COVID-19 information
The latest government guidance is given here.
Government Covid-19 restrictions
Meeting friends and family
From 27 January face coverings will no longer be compulsory in many indoor public spaces - although they will be recommended in some places, and remain mandatory on London transport.
1m-plus social distancing remains in places such as hospitals and passport control.
Going to work
The government is no longer asking people to work from home.
Schools and nurseries
All school staff and pupils at secondary schools advised take two lateral flow tests (LFTs) a week.
Secondary school pupils no longer have to wear face coverings in classrooms.
Leisure time
People currently need to prove their Covid status - with an NHS Covid Pass or proof of a negative lateral flow test - to gain entry to nightclubs, indoor unseated venues with more than 500 people, unseated outdoor venues with more than 4,000 people, or any venue with more than 10,000 people.
This requirement will end on Thursday 27 January.
Shopping
All shops and retail outlets are open.
You must wear a face covering in any retail setting.
Other
Residents in care homes are currently allowed three named visitors. These restrictions are expected to be eased shortly.
All restrictions on events such as weddings, funerals, bar/bat mitzvahs and baptisms removed - no requirement for table service, or restrictions on singing or dancing.
Places of worship open for communal services.
The
World Health Organisation
(WHO) has published a range of additional information covering all aspects of Covid-19 including
what to do if you or a member of your family becomes infected
. The link is
here
.
Covid-19 Symptoms ?
All people with flu-like symptoms
- a fever above 37.8C or a persistent cough - should
self-isolate (stay at home, away from other people) for seven days and call 111.
Don't spread it around !
Mental Health Support for those of 11-18 years
West Berkshire Council has set up a dedicated telephone helpline for young people experiencing issues and concerns relating to the pandemic - 01635 503587.
The helpline, which is linked to its Emotional Health Academy (EHA), will offer the district's young people self-help support, advice and guidance from trained EHA workers. It came into operation on 6 April, and will be open between 09:00 and 17:00 Monday to Friday, providing an opportunity for children and young people (aged 11 to 18) to express their concerns and talk about issues directly affecting them during the current Coronavirus crisis. EHA workers will use active listening skills to support young people in dealing with difficult feelings around Covid-19 and provide signposting and self-help support for their general wellbeing.
This local helpline is a short-term service and will be available only during the pandemic, to provide 'in the moment' support to children and young people. It will provide access to trained EHA workers who can offer advice and self-help tools and provide support to manage 'low level' problems. It is not a crisis line and does not replace other services such as the Child and Adolescent Mental Health Service (CAMHS).
Back to Contents List

The latest
West Berkshire Council
weeknote is available
here
.
RiM,
Recovery in Mind is a community organisation, where adults living in West Berkshire get the opportunity to learn life long skills and tools to improve and manage their mental health and wellbeing. Details can be found
here
.
West Berkshire Council
are asking residents across the district/borough to
think of others and not light bonfires
during the ongoing Covid-19 pandemic lockdown because many people at home are vulnerable and may have respiratory issues, or even be fighting the Covid-19 itself. During this difficult time we are asking that their needs are put first. Bonfires can also get out of control or cause accidents, creating extra pressure on the already busy emergency services. Anyone having a domestic bonfire that causes a nuisance may be
prosecuted under the Environmental Protection Act 1990
. To
report an incident of a bonfire
please use our on-line reporting form
here
.

Fly tipping
is the illegal dumping of any waste or rubbish on public land or sites which are unauthorised to accept waste. If the rubbish is dumped on private land, the landowner is responsible for removing it. If you find or receive notification of fly tipped material on private land you will need to inform the landowner. Landowners unfortunately will have to pay for the cost of disposal of fly-tipped materials. To
report an incident of fly tipping
please see links on PPP website
here
.
Back to Contents List
Police report

A message from the
Deputy Police and Crime Commissioner
is available
here
.
Online Fraud.
New scams are coming to light all the time. Police guidance is given
here
.
Local Police News
.
There has been little reported crime in the Inkpen area since my last update but as a team we have had a busy month dealing with various crimes that have been reported to us from across our policing area. These include rural crimes and anti-social behaviour. In around 25 percent of break-ins that take place in the spring and summer months, entry is gained through insecure windows and doors, especially at the rear of the property. Ensure your home is always secured.
With improving weather, we could see an increase in theft from vehicles parked at beauty spots such as Combe Gibbet and other areas used by walkers. This crime is carried out by opportunists, and you can reduce the risk of having your vehicle broken into by considering the following:
• Don't leave anything in your car. Do not leave items of value in your boot.
• Open the parcel shelf and leave the glove box open to show would be thieves there is nothing of value left in the vehicle.
• Don't return to your car to leave purchases in the boot before continuing with your shopping as thieves may watch car parks
If you would like any further information or advice, please contact me on 07814852137 or email Joanna.king@thamesvalley.pnn.police.uk
Please keep reporting stuff to us - We sometimes find that news travels fast round a community, especially via various social media channels but if no one tells us, we don't know about it.
You can report online at https://www.thamesvalley.police.uk , but if it is urgent please continue to call on 101 (non-emergency) and 999 in an emergency. You can now follow us on twitter @TVP_westberks.
SCAMS
Be aware of scams.
Download "
The Little Book of Big Scams
". For home security, download "
Secure your home
".
Message shared on behalf of Thames Valley Police
- We have been informed by Thames Water that a number of "Contractor" Identification Cards have been lost in transit. The cards have been deactivated so they cannot be used to gain access to any Thames Water sites but there are concerns that they could be used for criminal activity known as "Distraction Burglaries." Please be very cautious and verify with Thames Water any Thames Water person's details before letting anyone into their property?
Message sent on behalf of South East Coast Ambulance Service NHS Foundation Trust
(SECAMB)
We are aware of a voice message being shared currently on social media regarding the ambulance response to coronavirus. The alarmist information being shared in the message is not correct. We would urge people to disregard the message and not share it further. In line with our ongoing plans during this challenging time, we are continuing to follow national guidelines regarding the ambulance response and thank the public for their ongoing support in following the government's advice.
NHS test and trace system
The Government announced the launch of the NHS test and trace system in England and Scotland on 27 May. Earlier in the month Trading Standards warned about a phishing scam around use of the trial contact tracing app being piloted in the Isle of Wight. It has not been rolled out across the rest of the country but that hasn't stopped the scammers trying to take advantage. The public should look out for
texts
with links in them. The link goes to a bogus website which asks for personal details. Scammers may use the information to gain access to bank accounts and commit other forms of identity fraud.
Also, you might receive a call, text or email offering the COVID-19 vaccine. If you're asked to provide payment or bank details, please don't respond – it's a scam.
The real NHS will not ask you to:
1)
provide bank details or payments,
2)
give details of any other accounts, such as social media,
3)
set up a password or PIN number over the phone, or 4) call a premium rate number, such as those starting 09 or 087
People who shop at Tesco
have been warned not to fall for a scam email claiming to give them free shopping and vouchers. In emails addressed to customers of the supermarket, scammers have attempted to take advantage of the coronavirus crisis by offering them the chance to shop for free online or in store and to click on a link to register their details.
Similar scams too purporting to be from
Morrison
offering free vouchers and other scams such as free Dettol or Gillette samples or competitions. They are all trying to get you to like or share which gives them details on your contacts etc. Never click on any links from uninvited emails. If in doubt on any scams, please contact your Bank or other organisations to check whether they have been sent by them.
Other recent scams are a
text from O2
saying that a
payment had failed
and to avoid fees, visit the website using the link in the text and to then sign on using another screen asking for all the security details that the person used followed by credit card and bank account details. The fake website looked exactly like the O2 official site so some people could easily fall for this scam.
Royal Mail scams
via email advising that your parcel has arrived but the Courier was unable to deliver the parcel to you. The email then asks you to pay £3.95 for this to be re-delivered and to click on a link to give your bank and other details.
Also Emails saying that the
recent payment for your vehicle tax failed
because there is not enough money on your debit card and that your vehicle is no longer taxed. They suggest you use a credit card instead to avoid any other consequences and again this is a way of trying to obtain your Bank details.
There are various ways of reporting scams.
A new initiative called Cyberawaregov has launched SERS – the suspicious email reporting service. They say that if you have received an email which you are not sure about, to forward it to
report@phishing.gov.uk
There is further information on the website:
www.ncsc.gov.uk/information/report-suspicious-emails
Scams can also be notified to Action Fraud
on 03001232040 or via their website or to the
National Trading Standards Scams Team
on 03454 040506.
Back to Contents List

Out of hours Building works
The law - and frequently planning permission as well - regulates the hours during which construction can be carried out, typically between 8am and 6pm weekdays, 8am and 3pm on Saturdays, and not at all on Sundays. Outside those hours you have the right to complain to the council, who will come and investigate and may take action against persistent offenders. Contact WBC at ehadvice@westberks.gov.uk (Tel. 01635 519192) or planningenforcement@westberks.gov.uk (Tel. 01635 519111).

Back to Contents List

Library - Pass It on
The mobile library will call at Inkpen on 17th May and will be stopping at: Craven Road from 2.20 to 2.50pm and at Inkpen School at 3.05 to 4pm. The library service is being reviewed so please use the service to show if you wish it to continue.

The Libraries Service are also offering a new online service to residents so that they can continue to enjoy new books and to share their love of reading without leaving the house. They have set up a new Facebook group called West Berks Reads, which is a useful, alternative way for people to share their thoughts and pick up ideas for what to read next.

Meanwhile, the digital resources and e-library services are continuing 24/7 and understandably being very well used at this time. Why not go to the Libraries page on our website and discover a new book or magazine?

Back to Contents List

Climate change
Official reports suggest that our climate decline is rapidly accelerating. Although we are a small community and many feel that we are too insignificant in the grand scheme, there are things that we can do to make a positive impact.

Obviously we can plant more trees and hedging and the IMPFT is this month planting more than 300 hedging plants along Post Office Road. But individually we can make a difference by leaving some of our gardens to become wild spaces. We can be more careful in our use of pesticides and herbicides and hopefully use insect friendly alternatives. Remember, Your Climate Needs You.

Following on from the work of Bob May and Bernard Harris, to encourage wild flowers on the Lower Green Triangle, we are hoping to transform other areas of public land in Inkpen in the coming years, with an emphasis on natural flora and their insect inhabitants. Why not set aside a small patch in your garden for beautiful, natural, wild flowers. Have a look at this to get a bit of encouragement.

These links might also be of some interest. Trees and Insects. Remember, insects are at the bottom of the food chain - if we lose them we lose all that depends on them!

Back to Contents List

school news
After 2 years of very few Covid cases in school, we were hit hard during the last few weeks of the Easter Term, with both staff and children being absent. It was a close-run thing at times, but we managed to remain open, with all the children having the chance to attend 'Forest School' and visit the Crocus Fields during this time in our adapted curriculum.

The Lower Junior Trip to Chedworth Roman Villa was the first casualty of our Covid outbreak, but this has been rescheduled for a couple of weeks' time. I am sure the children will have a wonderful time, even though they have had to wait. The Year 6 residential trip to Osmington Bay did go ahead, and it was once again, a pleasure to be with such a well-behaved group of children. The highlights of the week, as always, were, the 'Giant Swing' and the Zip Wire.

Towards the end of term, we were able to enter a couple of sporting events; the annual Cross-Country run held at the Showground and the Tag Rugby tournament, held at the Triangle Field in Hungerford. The Infants had a different kind of sporting event in our final week, thanks to Katherine Astor, who arranged a visit from the Easter Bunny, who hid eggs in the garden for the children to find, as well as a visit from Sharky and George to entertain them. The children had a fantastic time and we would like to extend our thanks to Katherine, Sharky, George and the Easter Bunny for making this possible.

INKSPOTS
Attending Inkspots is an excellent way of preparing children who will soon be joining Inkpen Primary School. We encourage children by:
Supporting their Emotional and Social Development.
Teaching them Confidence and Independence.
Developing their Listening and Speaking Skills.
Best of all, the children in our care feel safe, valued and have lots of fun. Whether your child is soon joining the primary school or if that's still a few years away, if you want them to join the Inkspotters gang then contact team leader, Sarah, by phone (01488668219) or email (inkspots@inkpen.w-berks.sch.uk) to arrange a visit.
Daisy Chains
Contact Jenny on 07775883318 or Anna on 07785 184808.
Back to Contents List
playing field trust (impft) news
Book the Pavilion
With the Covid restrictions being lifted we hope you will consider hiring the pavilion for activities.
If you would like to hire the pavilion or any of the facilities email gloriakeene@hotmail.com. Hiring the pavilion and facilities enable us to maintain them as a 'not for profit' charity. Hire Charges are on the IMPFT website (www.impft.co.uk) and on the notice board at the pavilion or email Gloria for details.
THE QUEEN'S PLATINUM JUBILEE CELEBRATION 2ND – 4TH JUNE 2022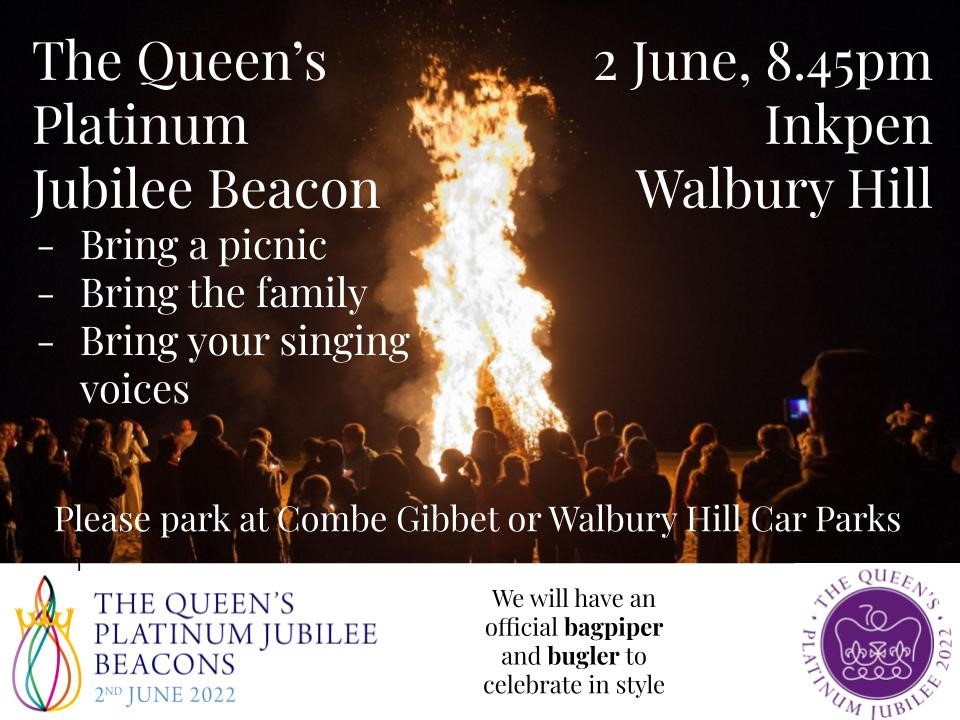 Lighting a Beacon for the Jubilee
On the evening of Thursday 2nd June, Inkpen will be lighting a beacon on Walbury Hill at 9:45pm to join with beacons being lit throughout the country. All are welcome to come along to take part in the ceremony. The celebration will include a piper who will play Diu Regnare at 9.35pm this will be followed by a Bugle Call - 'Majesty,' at 9.40pm, officially announcing the lighting of the Beacons at 9.45pm.
We are also hoping to have a local choir who, along with choirs throughout the country and commonwealth, will sing a unique musical tribute to Her Majesty the Queen that evening filling the world with the sound of music and song. (Currently we are having trouble finding a choir - if you have any ideas, please contact Emma - emwordsworth@gmail.com).
Inkpen Big Jubilee Saturday incorporating Party in the Park
Please put Saturday 4th June 2022 in your diary for a village event at the playing fields to celebrate the Queen's Platinum Jubilee. The daytime event will run from 12 o'clock until 4pm. There will be a great selection of activities and games for all ages including a family challenge, a coconut shy, face-painting and crafts for children, a bouncy castle, welly-wanging, a village tug of war competition, a dog show, barbecue, crepes, ice-creams, drinks and stalls plus a number of other games and activities.
Party in the Park will be held in the evening. We need help running the stalls and activities so if you could spare an hour on the day to get involved and help it would be much appreciated. Please email Emma at emwordsworth@gmail.com. The event is for everyone and there will be free entry during the day although there will be a charge for Party in the Park in the evening.
Party in the Park will be a terrific evening of live music and entertainment. There will be four great bands plus a barbecue and beer tent. It will start at 5pm and finish around 10:30pm. Tickets for this can be bought in advance from Eventbrite.com (search for Inkpen Party in the Park).
The Pavilion
The summer weekends are likely to be popular so do think about booking now.
The Chair of West Berkshire Council Clive Hooker and two of our Ward Counsellor's (James Cole and Dennis Benneyworth) who supported our bids for funding visited the pavilion and all the renovations last month. The coverage appeared on Penny Post and in the Newbury Weekly News.
If you would like to hire the pavilion or any of the facilities email gloriakeene@hotmail.com. Hiring the pavilion and facilities enable us to maintain them as a 'not for profit' charity. We are currently raising funds to put in wheelchair access. Hire Charges are on the IMPFT website (www.impft.co.uk) and on the notice board at the pavilion or email Gloria for details.
Playing field Tennis Courts
Sadly, due to delay in materials and the weather the courts are not going to be ready until the end of May. Please bear with us and do not try to use them until they are fully re-opened. Once finished there will be new tennis nets as well as a new surface so we hope it will get lots of use in the summer months and beyond. Please do be considerate of all users; tennis, Five a Side Football, and netball. For all the contact details of the clubs visit the IMPFT website www.impft.co.uk
Inkpen Cricket.
The 2022 season is upon us with 20 fixtures scheduled for this summer. We always require new faces and welcome anybody in Inkpen who fancies a social Sunday afternoon game against friendly local opposition. Whether you are a former player who hasn't played in years through to teenagers looking for an introduction into adult cricket, you are enormously welcome.
For more information see the Inkpen CC website (inkpencricketclub.org) or email Simon Hanna (admin@inkpencricketclub.org).
INKPEN 92 GROUP Meeting - Tuesday 12th April at 2.30pm
Tuesday 10th May at 2.30pm - all are welcome.
The Inkpen 92 Group are delighted to welcome, Dr. Ann Benson, an Inkpen resident, to the meeting on Tuesday 10th May at 2.30pm to talk about "Gardens from the Tudor period".
Amongst the nobility, ornamental gardens were a symbol of status. They reflected their owner's wealth and an awareness of the Renaissance ideals of controlling and improving nature. The finest Tudor gardens were created for Henry VIII and by the courtiers of Elizabeth I. The gardens of the following Stuart period combine more complex knot designs with more exotic plants, ornate fountains water parterres, canals and sculpture that became more classical than heraldic in design. The lecture brings these gardens to 'life'.
Come and join us at the Inkpen Pavilion - members and guests are welcome. Members & guests will be requested to give a donation of £2.
Back to Contents List
evENTS AT INKPEN village hall
INKPEN STITCH AND KNIT
The May Stitch & Knit will be on Wednesday 4th May at 7.30pm in the Village Hall. The June meeting falls on 1st June. If you have attended before or are a newbie you will be very welcome to join our small, friendly group to share ideas and skills. £3 for the evening including refreshments. Please give me a call or drop me an email if you have any questions. Jan Honey 01488668222 jan@honeydesign.co.uk

INKPEN MARKET
The Inkpen Food & Craft Market will be on Sunday 15th May 10:00am - 12:30pm.

We have some great local produce back including locally produced bread, honey, sausages, eggs, tea. We will also be welcoming new stalls including Turned in the Green & Russell Homemade Crafts. The Bunting Basket will be back with Bunting & Cards, Sarah with her beautiful plants & shrubs and Tracey with her Tropics Skincare.

If you would like to donate items to the tombola or are interested in having a stall, please get in touch inkpenmarket@hotmail.com
Back to Contents List

Other inkpen news
Ride + Stride for Churches

SAVE THE DATE - Saturday 10th September.
WHY? It's the annual Ride & Stride event.
This national event happens every year in every county. In 2021, Berkshire raised nearly £25,000 which was terrific and this year we want to do even better. Any mode of transport is fine – you could walk, cycle, ride - simply choose a route and find lots of sponsorship from all your friends and family.
You can go by yourself or in a group, any time between 10am and 6pm and many make a day of it. There are so many wonderful and interesting churches to visit, many will be open and offering refreshments too.
There is also the Daphne Barnes-Phillips trophy which is awarded to the most successful church each year – this is a splendid silver cup and currently resting with St Peter's Woolhampton as they raised the most sponsorship in 2021. Your nominated church will benefit hugely as they will receive half of your sponsorship. The remaining 50% goes to Berkshire Historic Churches Trust which in turn makes generous grants to churches in need.
More details will be provided closer to the event from your local co-ordinator or from the BHCT Ride & Stride website http://www.berkschurchestrust.org.uk/ride-and-stride - Prue Matchwick - Berkshire Ride & Stride Co-ordinator

THE LOST HISTORY OF INKPEN
Inkpen History Group is teaming up with Berkshire Archaeology Society to undertake geophysical surveys in Inkpen, to unveil some of the village history that has been left buried in the ground. We currently have several landowners that have given us permission to survey their land, with the understanding that our observations will be made accessible to all via the inkpenhistory.uk website.
It is hoped that the survey work will start later this year, probably between September and October and we will endeavour to keep residents informed of our progress, our results and where possible, involve residents of all ages in this project. What you can do to help.
We are still looking for land to survey before the final selection of sites is made. If you have paddock or grassland which has remained essentially untouched in living memory, and wish to be included, please email David Thomas at historygroup@inkpenvillage.co.uk. Other related activities will be unveiled in the next month or two.


SMALL CHANGES, BIG DIFFERENCE
Give yourself a Christmas present and give an enduring present to those that you care about. Little changes that you can make to save yourself money and help the next generation.
1. Wash clothes at a lower temperature. Cut your dishwasher use by just one cycle per week and save £8 a year on energy. The same goes for washing machine use - one less cycle per week and save £8 a year on energy. Only fill the kettle with the amount of water that you need and save around £6 a year.
2. 21% of all food waste occurs in the home. Buying less saves you money and can reduce waste.
3. Thinking about those car journeys – are they all necessary? Can you do several things in one journey or can you walk some of the journeys instead.
4. Heating your house – The UK government used to recommend a temperature of 21 degrees for living rooms and 18 degrees for bedrooms, but now they just recommend 18 degrees for the whole home.
5. Switch your lighting to LED lights, that'll save you around £30 a year on electricity. And don't leave lights on when they're not needed.
6. Don't leave electrical appliances plugged in and switched on. You can save around £35 a year just by remembering to turn your appliances off standby mode. Charging adapters for phones and other rechargeable battery devices can continue to use electricity even when the device is fully charged. These can also present a fire hazard. When a device is charged, unplug the adapter. And turn off the telly when you go to bed.
These are things that you can do to help play your part in COP 26! Please give it a go.
Back to Contents List


Useful links
Many thanks to Tim and Ali des Forges, editors of the Inkpen and Combe bulletin, for providing bulletin copy for this website. You can contact Tim and Ali by phone or email thus - aliedesforges@yahoo.co.uk or ring them on 01488 668496. You can also download a copy of the Inkpen and Combe bulletin here

To report potholes, go to www.westberks.gov.uk/pothole. For other road or pavement issues including overgrown verges, go to www.westberks.gov.uk.

To join Laine's heating oil delivery club, email Lanie.

To report a water leak, go to www.thameswater.co.uk and for loss of electricity, go to www.ssen.co.uk. Both Thames Water and SSE provide priority services for those needing help to cope should there be a loss of service. This includes the elderly and those with special health needs. Thames Water priority service can be accessed on-line, here and for SSEN, the details are provided here.


Back to Contents List